Source: Rusbase

After a spinal injury, Nikolay Muraviov from Tomsk was looking for ways that would help speed up his recovery. The doctor advised him to imagine that he was moving his legs. Then Nikolay got acquainted with VR and realized that the movements he was imagining in his head could be actually made in virtual reality.

Today, Nikolay and two of his colleagues is launching to market the "VR movement" technology. It will help people after strokes, spinal injuries, or those that suffer from cerebral palsy. The technology is 3-6 times cheaper and will consist of a mobile application available on a subscription basis and a hardware system for health care facilities. Rusbase learned about the trial outcomes, functionality and prospects of such solutions for patients.

Project Team:
Graphic designer, ideologist and founder of the project
Financial Director
Cybernetic Doctor, Project Science Director

Where did it all begin?
Nikolay: In 2010, during a ski trip, I suffered a serious spinal injury and lost the ability to walk. After the surgery, the neurosurgeon stated that to speed up recovery, I needed to mentally move my legs. It was difficult because I was immobilized for a long time and my brain didn't remember how to walk.


While I was going through rehabilitation, I studied different technologies and came across a VR headset. I had an idea to transfer the thoughts of movement out of my head and into virtual reality. But I didn't understand how to implement it because I didn't have any experience in doing this. And in 2014, the development of such technologies was expensive.

In 2017, I participated in the hackathon "Cyber Russia", where the project won a money prize (the team didn't disclose the sum, but it's known that the winning projects received up to 500,000 rubles for development and additional 150,000 rubles—editor's note). With this money, the first MVP was made.

The program was installed on a powerful gaming CPU, and anyone with musculoskeletal disorders could do physical therapy using a VR headset. Over time, a team was formed around the project. I was looking for like-minded people. The first one to help was Maxim—my friend and a person with extensive business experience. At the beginning of 2019, German joined the team. We met during an МТС StartUp Hub startup accelerator.



"New technologies are not everywhere"
Nikolay, you told me that rehabilitation methods are imperfect. What do you mean by that?
Nikolay: On average, a patient with a spinal injury needs to pay more than 100,000 rubles for three weeks in the most simple rehabilitation center. There, he will at best receive a standard examination of the body, physical therapy, the necessary minimum amount of medication, treatment procedures, and training in a free format.

Social health insurance pays only for 10-15 days of treatment at a rehabilitation center, which is not enough. And you have to wait for two-three years for that. Most often, a person with disabilities can't pay for this on their own, because someone with first-degree disability gets 10,500 rubles monthly, or 12,400 if the disability is from childhood. If there are dependents, in the family, the pension is a bit higher. Maximum payment is 16,000 rubles if there are three dependents in the family. Those rehabilitation centers don't even have new technologies, not to mention virtual reality.

A mobile app or a VR headset purchase will cost much less than the methods I mentioned. A lot of companies are getting just under the wire developing their own technologies because they understand the prospect of a VR-assisted rehabilitation equipment market. But not all companies can develop products that are both suitable and affordable for everyone.

Firstly, the problem is the price: VR hardware-software systems cost on average between 600,000 and 1.5 million rubles.
Secondly, many of these programs are unsuitable for people that cannot move their limbs. We came up with a different idea.
Maxim Zhdanov

How VR works

– How exactly does it work and how is it different from others?

German: We offer a tech solution to complement complex rehabilitation and improve the rehabilitation of the musculoskeletal system.
Maxim: We have a mobile app for the B2C market. You download the app, find a VR headset or simple cardboard glasses. And do the exercises.
Nikolay: Currently, we offer four different exercises for each arm and leg. In comparison with our competitors, our product can be used by patients with different degrees of mobility.

German: Our solution is no panacea. It goes hand in hand with traditional methods of rehabilitation, thereby causing a synergistic effect and increasing the speed of user recovery. When the users start working with the program, they see a virtual environment in the form of a comfortable room with windows and several interior items. When they look at their body, they see an avatar in the same position as their own body.

The application allows the patient to perform actions in virtual reality that are impossible in real life. Due to psycho-emotional and locomotor involvement in each action, there is an appeal to muscle memory, which allows you to learn to move again.

German: Today, rehabilitation systems with VR integration are being developed around the world. By 2025, the investment market of virtual reality in medicine will grow to $5 billion.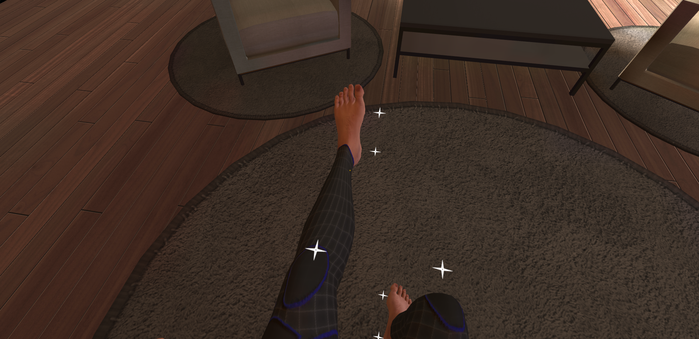 The app screenshot. The avatar performs the movements
"Our ideas are met with skepticism. But when specialists try the technology themselves, they immediately change their minds"

– Who may be interested in this in Russia?

German: People can undergo VR-rehabilitation programs using federal budget resources. It isn't available in all regions of Russia, but it definitely is in Moscow. This means that experts recognize that there is a therapeutic outcome.

The medical community has a very conservative approach to our project—our ideas are met with skepticism. But when specialists try the technology themselves and their limb suddenly moves a little, they immediately change their mind. We recently got the Local Ethics Committee's consent to conduct a study. LEC (Local Ethics Committee) is an independent board that's intended to protect the rights, interests, and health of participants of health studies. This means that the interaction between patients and our product does not contradict the ethical standards and does not violate the rights of the study participants.

Maxim: We negotiated with a dozen medical institutions that are ready to include our application in their rehabilitation complexes and conduct testing of a larger sample of participants. Mostly, these were the organizations of Moscow, Tomsk and Novosibirsk.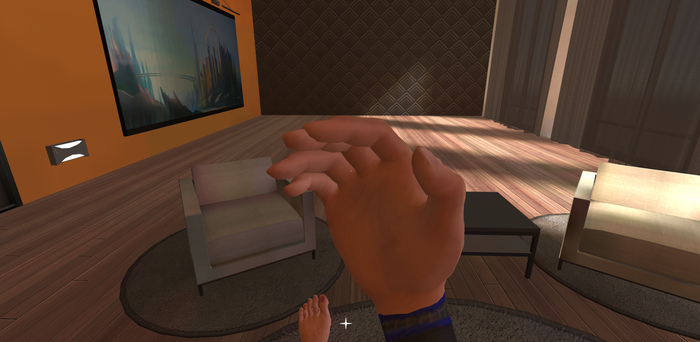 The app screenshot. The avatar performs the movements
"60% of participants noted positive changes"

– How was the research conducted?
German: We had several clinical trials at partner sites in Novosibirsk and Tomsk. In 2017, we used the first version of the product on a desktop computer. In 2017, we used the first desktop computer version of the product. Only five people participated at that time. We saw a positive clinical effect from the procedure—participants felt chilling or tingling sensations in their legs and a local feeling of rising in temperature along with sensitivity, involuntary movement, and muscle contraction.

In 2019, we started clinical trials in Tomsk. Three groups of five people were trained in virtual reality using our app. The training lasted 45 minutes each day for two weeks. Just like the Novosibirsk group, some Tomsk participants combined the VR training with other classical rehabilitation programs.

To assess the dynamics of the patient's state at the beginning and end of the trial, we used the Rivermead mobility index (patient mobility assessment index that evaluates mobility after a stroke, head trauma or spinal cord injuries), Rankin scale (estimates the degree of disability after a stroke), and Hauser Ambulation Index (assesses mobility by evaluating the time and degree of assistance required to walk 25 feet. Scores range from 0 to 10). The functional activity we measured on the Fugl-Meyer scale (evaluates recovery of locomotor activity of the upper limbs and self-servicing skills), the emotional state was measured on the Hospital Anxiety and Depression Scale(HADS). The results showed a correlation of training in virtual reality with the overall mood of the participant.

60% of participants pointed out positive changes in their emotional state, decreased anxiety and symptoms of depression an average of 2.2 points. Also, some participants showed slightly positive changes on the Fugl-Meyer scale during the second test of activity.

When analyzing the data, you should take into consideration the small number of participants and a very short duration of the trial. We are preparing an extensive study with a multidisciplinary team. Several medical centers agree to include our product in comprehensive rehabilitation programs Rehabilitation provided by the social health insurance lasts 10-15 days. In such a short time, it's difficult for new locomotor patterns and neural connections to set. A user can expand and improve the effectiveness of the rehabilitation through training with our app. Participants with restricted mobility can continue the rehabilitation process at home using consumer version of the software.


"Even PlayStation has games that are suitable for rehabilitation"

What similar projects can you highlight?
German: In Russia it is the National Medical and Surgical Center named after N.I. Pirogov. In my opinion, Professor Vadim Daminov, Head of the Department of Medical Rehabilitation of the National Medical and Surgical Center, is an ambassador of VR in rehabilitation. Nowadays, there are many ways of using VR such as "cognition", "balance", "walking", and others.

VR in neurorehabilitation is studied abroad, as well. This is done at the Israeli Sheba Medical Center, HVS Image, Neuro Rehab VR in America, the University of Oxford in the UK, and many others. Even PlayStation has games that are suitable for rehabilitation: the algorithm gives feedback on the user's performance of the exercises, for example, while playing tennis. At the same time, most of these solutions use external tracking and/or require the participation of a specialist who will monitor movement. This is not necessary with our product.

— How do you track your progress then?
Maxim: So far, the progress is being tracked either by volunteers or by the patients themselves. At the moment, the results will be monitored by a specialist, because we are now at the stage of clinical trials.

German: We are also working on separate additional modules. For example, electromyography (reads potential from healthy limbs—editor's note) and electrical stimulation (transmits potential to damaged limbs, stimulates the muscles necessary for movement).


German Shnaider
"Our solution is cheaper than its analogues"

– Who is your target audience?
Maxim: The B2B market: medical centers and institutions that offer rehabilitation. In the future, we want to satisfy the demands of people for recovery or improvement of quality of life after stroke, spinal injuries, as well as those who suffer from phantom limb pains and cerebral palsy. Initially, we will transfer patients to medical institutions so that doctors will record changes and results. In the future, we want to launch a mobile application to continue rehabilitation at home. This is the B2C market, and we are currently considering access on a subscription basis, about 1000 rubles per month. For medical centers, we plan to sell one workplace costing anywhere between 300,000 and 500,000 rubles. We hope to offer this in six months. The return on investment period is a year and a half from the start of sales.

German: We do not exclude B2G. Competitors abroad and domestic analogs like ReviVR cost about 1.5 million rubles. Our product is 3-6 times cheaper.

Maxim: According to the Ministry of Labor there are about 12 million people with disabilities in Russia. I think we can work with 10 -15% of the audience. Expanding the solution's functionality will make it possible to help other groups of people.

German: We are mostly talking about neurologic conditions. So far, VR technologies in rehabilitation focus on stroke patients. In Russia, there are about 500,000 people who have suffered a stroke. And the number is growing because the illness is affecting a younger population of people due to stress.

– How much have you invested in the project?
Maxim: About 3 million rubles. Each of us has a full-time job, and this is a startup to which we dedicate our free time.
Nikolay: We understand that any business should at least pay for itself and make a profit. But our project is for those who found themselves in difficult circumstances, and we think it is unethical to think only about profit. Our main goal is to help people.
German: The brain can be trained and we try to "trick" it for the benefit of the patient, even with significant brain damage.

– How do you attract investors? Are they interested in this solution?
Maxim: We believe in the technology, we talk to medical specialists who see the results, but evidence is important. Currently, we aren't seeking investments because this requires data that will confirm that our technology improves the efficiency of rehabilitation. After going through this stage, the value of our company will increase, and we will start working actively with potential investors.


Vadim Daminov, Doctor of Medicine, Head of the Department of Medical Rehabilitation of Federal State Budgetary Institution "National Medical and Surgical Center Named after N.I. Pirogov" of the Ministry of Healthcare of the Russian Federation:
Today there are a lot of start-ups in the field of VR rehabilitation in Russia. For example, the "Devirta.Delfi" system has completed its clinical trials and is now used by the Pirogov Center. It submerges patients into the world of communicating with dolphins and helps regain mobility by repeating special movements. The program helps a person see the results of their training and motivates them to achieve results by engaging them in the game. Today, it is the only VR system for rehabilitation, which has obtained state registration. As far as I know, there are two more projects from Volgograd and Samara.

Together with the Union of Rehabilitologists of Russia, we are studying all significantly relevant VR projects. When we got acquainted with "VR movement", the functionality of the project was limited to one-movement training. We agreed to continue communication and possibly conduct clinical trials at the Pirogov Center after further development of the project. It should be noted that the project has an interesting algorithm and good prospects.

Despite great achievements in the VR / AR field with a full immersion and without causing dizziness and other negative consequences, there is also the important question of safety of the use of such technology in medicine. In this regard, four studies on the safety of using VR to regain mobility, memory, attention, and speech are being conducted at the Digital Rehabilitation Laboratory of the Pirogov National Medical and Surgical Center. Preliminary results of the research will be presented in early June.